Kidney Cancer/ Renal Cancer
Abnormal growth in the kidneys leads to kidney or renal cancer. It is one of those cancers that can be easily treated as well as have excellent survival rates.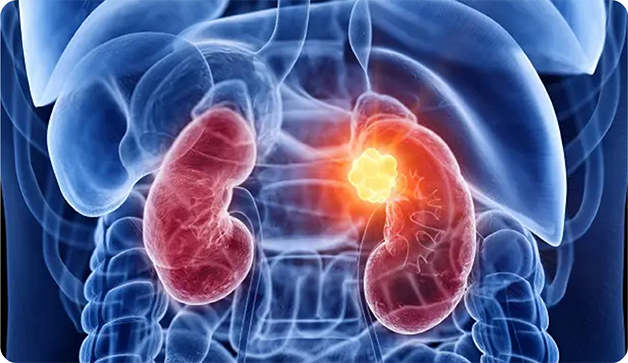 Types of Kidney Cancer
Depending on the type of cell, kidney cancer is of the following types:
Renal Cell Carcinoma (RCC): This is the most common type which starts in the proximal renal tubules. These tubules perform filtration in the kidneys. 

Urothelial Carcinoma: This is another common type which starts in the renal pelvis and spreads

Sarcoma: This rare type starts in the soft tissues inside the kidneys. quickly to the bladder.

Wilms Tumour: This is more common in children and starts in the tissues inside the kidneys.

Lymphoma: This rare cancer starts in the lymph nodes around the kidneys.
In the early stages, the symptoms of kidney cancer may not be apparent. The symptoms, however, may appear once cancer develops. The common symptoms are:
Lump in the side of the abdomen
Blood in the urine
Persistent and chronic back pain
Loss of appetite
Abrupt weight loss
Extreme weakness and fatigue
Anaemia
Heavy sweating
Fever without cold or infection
The exact cause of kidney cancer is not known. The possible causes, however, include:
Obesity
Family history of cancer
Underlying kidney disease
Infection
Smoking
Frequent use of NSAIDs
Age
Hypertension
Exposure to harmful chemicals
Kidney cancer is diagnosed by:
Blood test: The doctor will perform a blood test to determine underlying kidney problems.
Urine test: A urine test will also be performed to check the presence of blood and other abnormal cells.
Imaging tests: Various imaging tests such as CT scans, and MRIs will be performed to gauge the size, location, and stage of the tumour.
Biopsy: The doctor will extract a small tissue from the area and examine for the presence of cancer cells.
The treatment strategy for renal cancer depends on the stage and type of cancer, age, and overall health of the patient. Surgery is usually the mainstay of the treatment. It may be combined with chemotherapy and radiation therapy for better outcomes.
Active surveillance: In case of slow-growing renal cancers, the doctor will closely monitor the patient. Once cancer growth is observed, the doctor starts therapy.

Surgery: Surgery is the mainstay of renal cancer. The doctor will remove a part of the kidney along with surrounding tissues.

Radiation therapy: High-energy X-rays will be used to destroy cancer cells.

Chemotherapy: High doses of anti-cancer drugs will be administered to destroy cancer cells. In some cases, chemotherapy is combined with radiation therapy to remove cells from the body.